Moneyba González (coord), Carmen Navarro and Alfonso Egea, Instituto de Derecho Local, Universidad Autónoma de Madrid
'Decide Madrid' is a form of public consultation implemented in the nation's capital city. Inspired in principles derived from the theory of direct democracy, public consultations seek public input from individual citizens to be applied to local policy making. They can be organized through ICT tools in big cities like in this case or as traditional referendums using ballots in medium and small towns. Public consultations are an interesting case for the urban-rural interplay analysis as they are implemented in both territorial settings, in small towns or villages and in urban spaces, but supported in different tools or strategies; small spaces would privilege traditional mechanisms such as public audiences or referendums. We have selected the case of a public consultation strategy in a big city because it is implemented through a digital tool (a website) which presents the opportunity to investigate key issues and current academic debates in the field of participation, such as inclusive participation, quality of deliberation, digital literacy or levels of participation and impact on governance. In addition, this project allows for a hands-on experience on how to develop citizen participation ICT tools that guarantee individual rights (i.e. intimacy, protection personal data).
Many aspects of this participatory strategy make it relevant for in-depth analysis, among others:
to what extent 'Decide Madrid' achieves broad participation of citizens, overcoming the disadvantages that other participatory settings – such as consultative boards – present in big cities (information about the projects, interaction between citizens);
to what extent it achieves inclusive participation of citizens, overcoming the reluctance or unfeasibility to participate for those who are not digital natives;
technical and legal complexity. There are many aspects that can jeopardize its effective implementation, such as proposals' viability, legality or cost;
to what extent voted and accepted proposals are finally implemented (effectiveness of citizens' participation);
the rules of the procedure and the extent to which they meet the goals of equality or efficiency;
the quality of the deliberation among citizens.
'Decide Madrid's goals, as stated by the city government are, i) to increase resident participation in decision-making on the city's projects; ii) to generate a forum of debate where people can discuss the issues that matter to them the most.
The main strategy tool of this practice is its website.[1] It is an online platform launched by the City Government of Madrid to facilitate direct, individual participation in the city's public affairs. Once registered on the platform, all residents can create discussion threads, assess, comment on or support the various proposals, participate in the different processes and vote online on the participatory budgets. The website also encompasses information about the different projects (technical conditions, budget, time for execution, among others).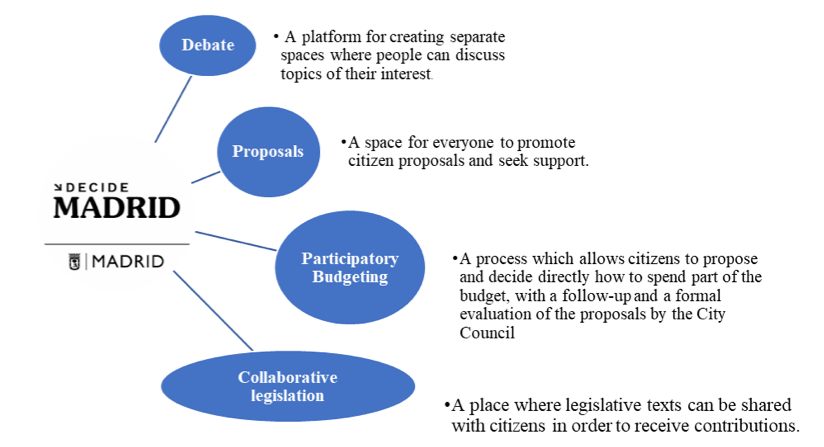 Decide Madrid allows users to elaborate their own proposals for courses of action to be undertaken by the city government and to support those of others, digitally. The platform enables proposals attaining support from 1 per cent of the city's registered population aged 16 years and above to be submitted for acceptance or rejection by the people; when the vote is favorable, the proposals are undertaken by the city government.
The website is also a tool for participatory budgets initiative, facilitating the submission of the spending proposals, gathering the support needed for them and making the presentation of the situation, collecting the support for the same and making possible the final electronic vote. In 2018, residents voted for proposals valued in EUR 100 million in total that are intended to be implemented in 2019. Some proposals that are repeatedly presented by citizens include building or renovation of sports centers, bikes paths, music schools, street lighting or kindergartens.
This tool has only been recently put in place, so it is challenging to make an assessment, even if it is preliminary. If one takes into account that there are currently 421,211 people registered on the website out of 3.2 million inhabitants in the municipality, and that no other type of open strategy for all citizens had been implemented before, then it deserves a positive evaluation. In addition, United Nations has awarded a prize to Decide Madrid for the best public service in 2018 in the category of 'Making institutions inclusive and guarantying participation in decision-making'.
However, a more refined analysis on the aspects mentioned in the previous lines (inclusiveness, effectiveness, deliberation quality, etc.) would allow us to assess this practice from a more integral and systematic perspective.
Arnstein S, 'A Ladder of Citizen Participation' (1969) 35 Journal of the American Planning Association 216
Fernández Martínez JL, 'Instituciones de democracia participativa a nivel local: características e impacto de las propuestas participativas sobre políticas públicas' (2016) 8 Anuario de Derecho Municipal 144
Font J, Della Porta D and Sintomer Y, Participatory Democracy in Southern Europe. Causes, Characteristics and Consequences (Rowman and Littlefield 2014)
Fung A, 'Democratizing the Policy Process' in Robert E Goodin, Michael Moran and Martin Rein (eds), The Oxford Handbook of Public Policy (Oxford University Press 2006)
García-Espín P and Jiménez M, 'Los procesos participativos como potenciadores de la democracia. Explorando los efectos, mecanismos y evidencias en la sociedad civil' (2017) 177 Revista de Estudios Políticos 113
Gunther R, Gibert JRM, Montero JR, Botella J and Corral JB, Democracy in Modern Spain (Yale University Press 2004)
Decide Madrid website, <https://decide.madrid.es/>

---
[1] Municipality of Madrid, 'Decide Madrid: portal de participación ciudadana del Ayuntamiento de Madrid' (Decide_Madrid, 2021) <https://decide.madrid.es/>.